Students in my Art History class did a recreation piece for their final project. The goal of the assignment was to find an art piece in all of Art History and recreate it to their interpretation. To say the least I received a vast spectrum of art work today.
Below are examples of the students pieces and the pieces they recreated:
Katie Fiscus, "Recreation of Assyrian archers pursuing enemies" medium Digital Art, GIF, 2017. Relief from northwest palace of Ashuransirpal II. Image found in Gardner's Art Through the Ages 15th Edition.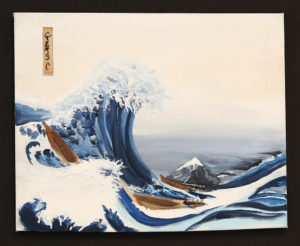 Chris Couture recreation of The Great Wave off Kanagawa, Acrylic, 20X16″, 2017.
Stephany Smith, Recreation of Frida Kahlo ,Two Fridas. Dress, paint, fibers, and felt., 2017.
Two Fridas, Gardners Art Through the Ages 15th Editions.
Each one of these pieces are unique to the students background in Fashion, Web Design, and Illustration.
It is good to allow students a chance to recreate a piece from art works in the past to understand how these pieces were made and used. This is one of my favorite assignments to give to my students in Art History.